Social bookmarking


Bookmark and share the address of 99 Percent Revolution on your social bookmarking website
HIs presidential campaign is a gigantic failure
Ron DeSantis and his backers paid $95,000 to an Iowa religious leader's group
As Florida Governor Ron DeSantis scrambles to shore up his struggling run for the Republican presidential nomination, he has spent far more than any rival on courting an influential Christian conservative leader and his following in the key early voting state of Iowa.

Trailing far behind former President Donald Trump in national polls and beset by turmoil in his campaign, DeSantis and his advisers are spending heavily in Iowa in hopes of stalling Trump's momentum by beating him in the state's caucuses on Jan. 15, where Republicans begin to choose their next presidential nominee. The state's influential evangelical voting base is crucial to that strategy.

MaryG




Posts

: 5


Points

: 5


Join date

: 2023-08-12



Ron DeSantis' Wedding Invite Revoked By Billionaire GOP Donor's Daughter
Court docs claim Florida's governor was persona non-grata at the wedding of Nicola Peltz and Brooklyn Beckham, son of pop star Victoria Beckham.

"Nelson Peltz thinks that most of DeSantis's policies are acceptable, but his position on abortion is way too severe," an insider revealed. "That may undermine Peltz's desire to financially support DeSantis as a candidate."
"Thin-skinned Ron DeSantis couldn't handle the heat from a 15-year-old's questions, so he allowed his security to MANHANDLE the child at a New Hampshire campaign event."
Source
Daily Beast wrote:Speaking about it for the first time in an interview with The Daily Beast, Mitchell says that he was grabbed and physically intimidated by DeSantis security at two subsequent campaign stops, where the candidate's staffers also monitored him in a way he perceived as hostile.

The experience, Mitchell said, was "horrifying" and amounted to "intimidation."

At a Fourth of July parade DeSantis attended, Mitchell was swarmed by security and physically restrained after a brief interaction with the governor—with his private security contractors even demanding Mitchell stay put until they said so.

With his mother alarmed, the situation escalated to such a degree that the candidate's wife, Casey, spoke directly with her—but to suggest her son was being dishonest about what happened, according to Mitchell.

Then, at an August 19 event—where Mitchell was tailed closely by two security guards—an attendee told The Daily Beast they saw a staffer for DeSantis' super PAC, Never Back Down, take a photo of the teenager on Snapchat before typing out an ominous caption: "Got our kid."
Source
NAZIs marching in DeSantis' Florida again.
Neo-Nazis March Through Florida Park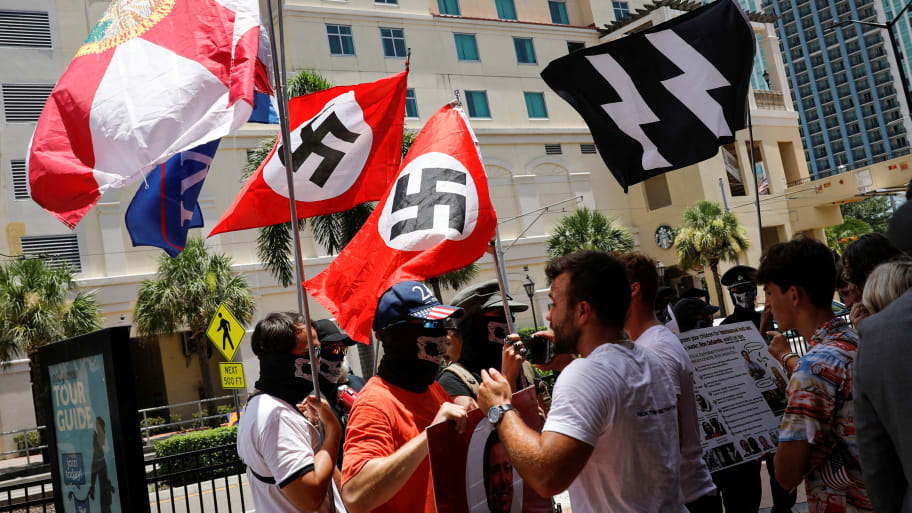 ---
Permissions in this forum:
You
cannot
reply to topics in this forum