Social bookmarking


Bookmark and share the address of 99 Percent Revolution on your social bookmarking website
It's time working people started to fight for their rights.
Burger King gave candy to a worker who never called in sick. The internet gave $400k
Burger King cook and cashier Kevin Ford was happy to receive a small goody bag from management as a reward for never calling in sick. But people on the internet were less thrilled. They believed Ford deserved more — over $400,000 more.

While many on social media said they respected Ford's work ethic and positive attitude, they also argued that he deserved more than a bag of treats for prioritizing his job over his health.

As a single father with four daughters, Ford never took sick days because frankly, he couldn't afford to. Ford's job — like more than half of restaurant and accommodation jobs as of 2020 — does not offer paid sick leave, meaning workers typically do not get paid for missing work due to illness unless they dip into their paid vacation time.

Ford said he only ever missed work for medical reasons twice in his Burger King career — once for a surgery related to his sleep apnea, another for a spine procedure caused by working long hours on his feet. Even then, he used his vacation days to take that time off.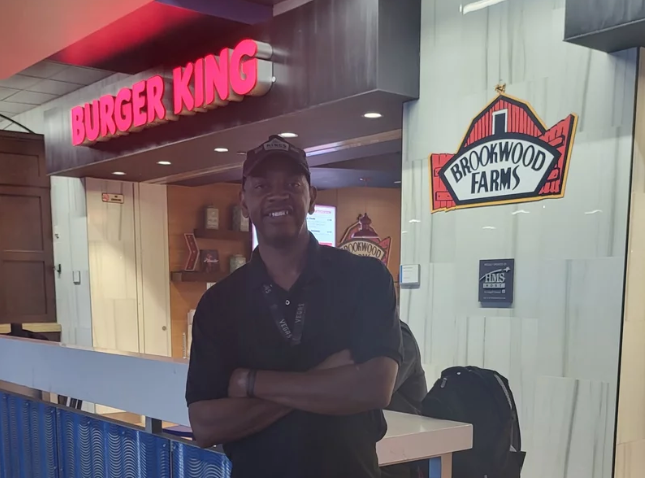 FedEx fires Black driver who says White men shot at him on the job
FedEx has fired a Black employee for refusing to take another job after he said two White men chased and shot at him while he delivered packages last year.

Four days before D'Monterrio Gibson found out he'd been fired, a Mississippi judge declared a mistrial in the case of a father and son charged with attempted murder after Gibson said they attacked him.

The men allegedly chased Gibson for about seven minutes while he was delivering packages on his route in Brookhaven, Miss., on Jan. 24, 2022. The pair fired at least five shots into his van, according to court records. Gibson, now 25, said that he had not interacted with the men before the shooting.
According to Conservative/GOP logic states with high minimum wages
should be losing jobs
. The opposite seems to be the case. California has the highest job creation level also has the highest creation rate of any state. In 2022, they created 1 job per every 39.2 residents. Florida and Texas, which have a very low min. wage for it's citizens, are 41+ each. Georgia, a swing state, with 2 Democratic Senators has a higher job creation rate at 40+. New York, which is tied 5th for highest job creation rate, is essentially tied with Texas and Florida in job creation/pop at 41+.
States with the highest minimum wage:
Washington, DC, $16.50
Washington, $15.74
California, $15.50
Massachusetts, $15.00
New York, $14.20
New Jersey, $14.13
Connecticut, $14.00
Arizona, $13.85
Maryland, $13.80
Maine, $13.80
Colorado, $13.65
Oregon, $13.50
Vermont, $13.18
Rhode Island, $13.00
Illinois, $13.00
Missouri, $12.00
New Mexico, $12.00
Virginia, $12.00
Delaware, $11.75
Arkansas, $11.00
Florida, $11.00
Hawaii, $11.00
Alaska, $10.85
South Dakota, $10.80
Minnesota, $10.59
Nebraska, $10.50
Nevada, $10.50
Michigan, $10.10
Ohio, $10.10
Montana, $9.95
West Virginia, $8.75
---
Permissions in this forum:
You
cannot
reply to topics in this forum